Animated Stories: It's Effect on Students' Scores in Reading Comprehension Score
Keywords:
animated stories, reading comprehension, student score, multimedia, experimental design
Abstract
Teaching English through animated stories bears much potential for effective and meaningful language instruction as animated stories can help to contextualize the new language by providing auditory and visual presentation material. This study investigates the effect of animated stories on students' reading comprehension skills of narrative texts across different personalities. This quasi-experimental design study involved 63 junior high school students, 32 for the experimental and 31 for the control classes, who were randomly selected. This study employed four authentic animated stories as the theme to teach the narrative text. The treatment was carried out in four meetings, and subsequent to the treatment, the reading comprehension test was conducted. The main data was collected from the post-test and questionnaire. The test is in the form of multiple choice with 20 items and four options. The data analysis result showed a significant effect of animated stories on the student's reading comprehension skills of narrative texts. The experimental class's mean score was higher than the control class's mean score. Students in the animated stories group achieved higher scores than those in the control group, with a mean difference of 11.431. This finding confirms the theory that multimedia, particularly animated stories, effectively improves students' reading comprehension.
Downloads
Download data is not yet available.
References
Amine, B. M., Benachaiba, C., & Guemide, B. (2012). Using Multimedia to Motivate Students in EFL Classrooms: A Case Study of English Master's Students at Jijel University, Algeria. Malaysian Journal of Distance Education, 14(2), 81.
Brünken, R., Plass, J. L., & Leutner, D. (2010). Direct Measurement of Cognitive Load in Multimedia Learning. Https://Doi.Org/10.1207/S15326985EP3801_7, 38(1), 53–61. https://doi.org/10.1207/S15326985EP3801_7
Cahyono, B. Y., Hidayati, M. & Zen, E. L. (2014). Teaching English by Using Animated Stories. Malang: State University of Malang Press.
Gilakjani, A. P. (2012). A Study on the Impact of Using Multimedia to Improve the Quality of English Language Teaching. https://doi.org/10.4304/jltr.3.6.1208-1215
Jaffer Ouda, N., & Soliman Keshta Ibraheam El Astal, A. (n.d.). The Effect of Using Animation on 6 th Graders' attitudes and Comprehension of Short Story in Gaza Governmental Schools.
Juhana, J. (2012). Psychological Factors That Hinder Students from Speaking in English Class (A Case Study in a Senior High School in South Tangerang, Banten, Indonesia). Journal of Education and Practice, 3(12), 100–110. https://www.iiste.org/Journals/index.php/JEP/article/view/2887
Hays, J. (2015). School Life in Indonesia. http://factanddetails.com/ indonesia/Educationa_ Health_Energy_Transportation/sub6_6a/entry-4073.html
Khalidiyah, H. (n.d.). THE USE OF ANIMATED VIDEO IN IMPROVING STUDENTS' READING SKILL (A Quasi-Experimental Study of Seventh Grade Student at A Junior High School in Jalancagak, Subang). In Journal of English and Education (Vol. 2015, Issue 1).
Kirschner, P. A. (2002). Cognitive load theory: implications of cognitive load theory on the design of learning. Learning and Instruction, 12(1), 1–10. https://doi.org/10.1016/S0959-4752(01)00014-7
Mayer, R. E. (2014). The Cambridge Handbook of Multimedia Learning. The Cambridge Handbook of Multimedia Learning, Second Edition, 1–930. https://doi.org/10.1017/CBO9781139547369
Parlindungan, D. D., & Pd, M. (2017). ROLE OF MULTIMEDIA IN MOTIVATING EFL LEARNERS' INTEREST IN ENGLISH LANGUAGE LEARNING. PROCEEDINGS UNIVERSITAS PAMULANG, 1(1). http://openjournal.unpam.ac.id/index.php/Proceedings/article/view/803
PERATURAN PEMERINTAH REPUBLIK INDONESIA. (n.d.).
Plass, J. L., & Jones, L. C. (2005). Multimedia Learning in Second Language Acquisition. The Cambridge Handbook of Multimedia Learning, 467–488. https://doi.org/10.1017/CBO9780511816819.030
Sadiman, A. S. (2008). Media Pendidikan: Pengertian, Pengembangan, dan Pemanfaatannya. Jakarta: Raja Grafindo Perkasa.
Schwartz, N. (2003). The Impact of Animation and Sound Effects on Attention and Memory Processes. http://mediawiki6792011.wikispaces.com/ file/view/Schwartz+2003+Impact+of+animation+and+sound+effects.pdf
Sianipar, P. (2017). Role of Multimedia in Motivating EFL Learners' Interest in English Language Learning. Proceeding, 1(1): 93-106. Retrieved February 15, 2018 from http://openjournal.unpam.ac.id/index.php/Proceedings/article/download/803/667
Su, S. C., & Liang, E. (2015). Using Subtitled Animated Cartoons and Textbook-based CDs to Test Elementary Students' English Listening and Reading Comprehension in a Cram School. International Journal of Applied Linguistics and English Literature, 4(1), 106–114. https://doi.org/10.7575/AIAC.IJALEL.V.4N.1P.106
Torabian, A., & Tajadini, M. (2017). Fostering EFL Learners' Reading Comprehension: Animation Film Technique. Advances in Language and Literary Studies, 8(2), 55–63. https://doi.org/10.7575/AIAC.ALLS.V.8N.2P.55
Valli, K. S. & Priya, N. S. V. (2016). Use of Multimedia in English Language Teaching. International Journal of English Language, Literature and Humanities, 4 (3): 188-193. http://www.ijellh.com
Zhang, S. (2009). English Language Teaching The Role of Input, Interaction and Output in the Development of Oral Fluency.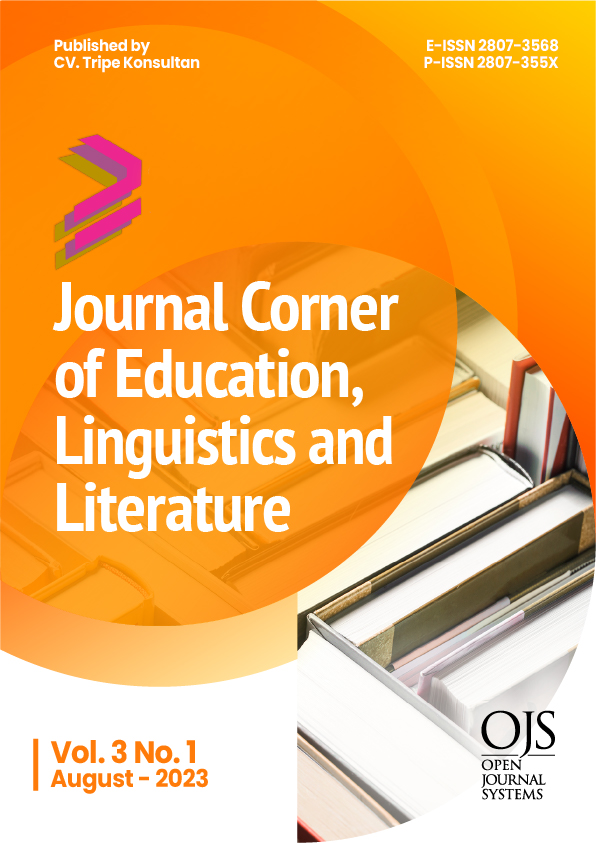 Downloads
How to Cite
Azhimia, F. (2023). Animated Stories: It's Effect on Students' Scores in Reading Comprehension Score. Journal Corner of Education, Linguistics, and Literature, 3(1), 10–16. https://doi.org/10.54012/jcell.v3i1.160
License
Copyright (c) 2023 Faida Azhimia
This work is licensed under a Creative Commons Attribution-ShareAlike 4.0 International License.